НОВОСТИ ДВИЖЕНИЯ
Мельбурн
Join the 'Immortal Regiment' in Melbourne on 4th May 2019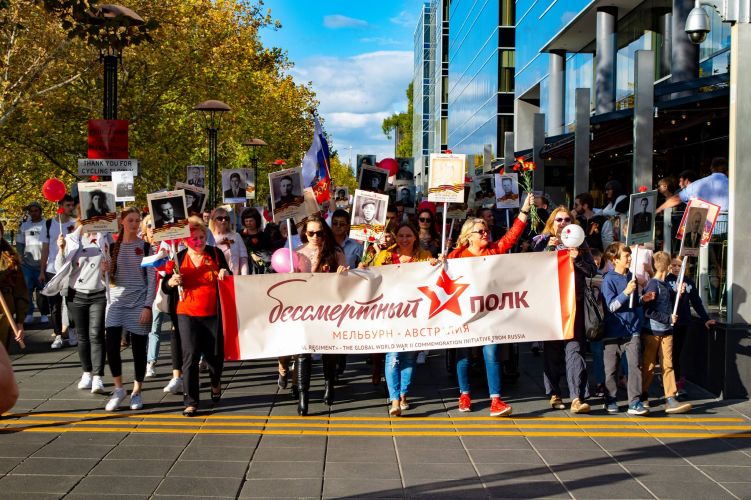 Dear friends!
You might now be wondering about how and why you, being in Australia, ended up on a Russian website today. Here is what's happening: the Australians of Russian descent and heritage would like to introduce you, invite you and include you all with an acutely heartfelt matter relating to historical events that both our countries were part of; a matter that is extremely personal for many of us; a matter that can make the world better, and us - stronger: the 'Immortal Regiment' of the Second World War.
The 'Immortal Regiment' is a strictly non-political, non-commercial, non-governmental international community initiative voluntarily run by ordinary Russian people worldwide.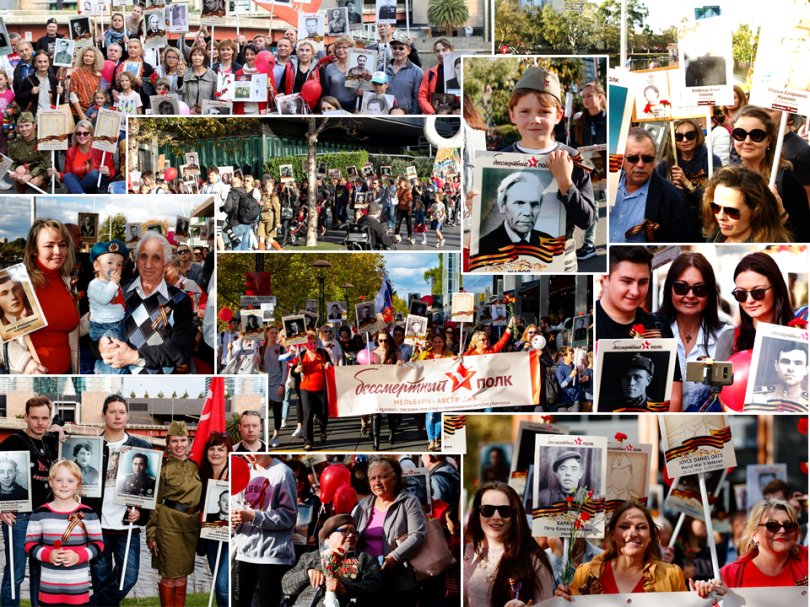 From this article you will find out:
What is the 'Immortal Regiment' event? How does it relate to Australia?
I have a photo of my family hero. How do I prepare it for printing a portrait sign? (free help available)
How can I craft a portrait sign at home (DIY)?
Where in Melbourne can I order a parade-ready portrait sign?
Where and when will the 'Immortal Regiment' march in Melbourne in 2019?
Scroll down for the details ▼▼▼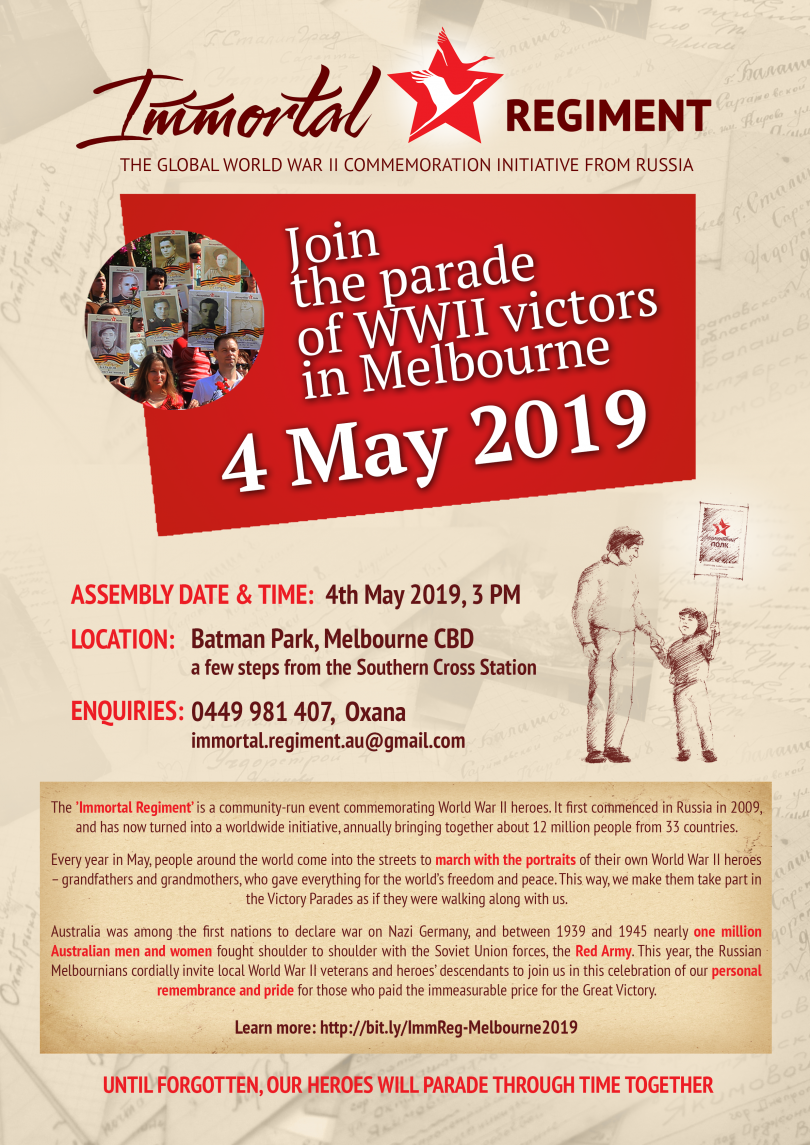 WHAT IS 'IMMORTAL REGIMENT'?
The 'Immortal Regiment' is a community-run event commemorating World War II Ally heroes. It first commenced in Russia in 2009, and has now turned into a worldwide initiative, annually bringing together about 12 million people from 33 countries.
Every year in May, people around the world come into the streets to march with portraits of their own World War II heroes – grandfathers and grandmothers, who gave everything for the world's freedom and peace. This way, they take part in the Victory Parades as if they were walking along with us.
AUSTRALIA AND USSR IN WORLD WAR II
Australia was among the first nations to declare war on Nazi Germany, and between 1939 and 1945 nearly one million Australian men and women fought shoulder to shoulder with the Soviet Union forces, the Red Army.
The Soviet Union lost 26.6 million people during World War II. This was the price paid for the Great Victory against the axis powers. It wouldn't be an exaggeration to say that every single family from what is now Russia has a fallen War Hero who they remember.
This year, the Russian Melbournians cordially invite local World War II veterans and heroes' descendants to join us in this celebration of our personal remembrance and pride for those who paid an immeasurable price for the Great Victory.
If World War II took its toll on your family:
if one of more of your parents, grandparents or great-grandparents were soldiers or rearguard army servants during 1939-1945;
if they came back home with victory, or never returned;
if they survived a concentration camp, or they saw the bombshells fall, or in any other way the War was personal for them...
...Come along and bring their portrait to the 'Immortal Regiment' Victory Parade in Melbourne!
Courtesy request: the war times are long gone, and this tremendous international conflict is long over; the descendants of those who were 'on the other side' are now our valued and beloved friends. However, on this occasion and in respect to our parents and grandparents, we kindly ask you to refrain from bringing the portraits of those who were their adversaries during World War II, or any Axis-related insignia to this event.
PORTRAIT SIGNS DESIGN
To make your Hero truly visible in the 'Immortal Regiment' formation, we recommend bringing large-size portraits, or better yet, made-for-purpose signs (such as the ones you can see in the photos). This year, our volunteers are happy to assist you with making parade-designed image files featuring your Hero's photo and name for you to print.
It's easy to acquire a print-ready portrait sign file:
Follow the link https://forms.gle/5nVLLmsrPYsFciMg9 to access a short form
Fill in the details about yourself and your Hero
Upload a photo (if you have one – it's fine to make a sign with just a name!)
Wait for an email – our team will send your print-ready file through!
…
Additionally, you will receive your unique 'Artwork ID' – the code that you can use if you choose to order a portrait sign with our printing-partners Sticky Vinyl Lettering. For your convenience, they have access to all the images we create (but not your personal details).
MAKING YOUR PORTRAIT SIGN
Now, with a print-ready portrait file, you need to make a sign you will be walking with. You can either make one yourself – we have prepared some instructions on how to get this done, - or order it professionally printed.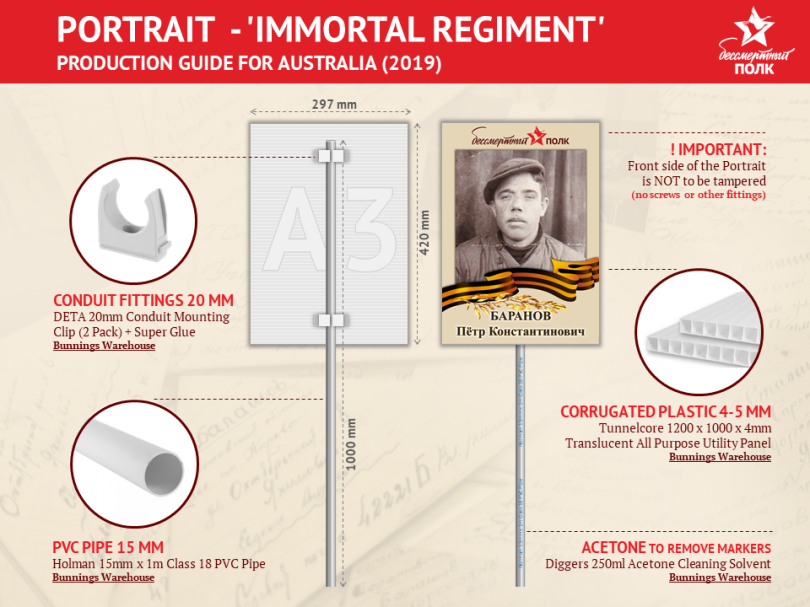 This year again, the 'Immortal Regiment' team has partnered with a Melbourne local printing business, Sticky Vinyl Lettering who produce non-expensive, quality, purpose-made portrait signs for our attendees. If you choose to order with them, here is how:
Visit the Sticky Vinyl Lettering website via the link http://bit.ly/2IkmQQH
Add a Portrait Sign product to your online cart
Upload your print-ready portrait file or enter your Artwork ID supplied by our volunteers (you can also order multiple signs by adding additional portraits)
You can choose whether to get your sign/s delivered via Australia Post or to collect it right at the event
Each Portrait Sign costs AUD 25.00 (delivery charges not included).
'IMMORTAL REGIMENT' WALK
With the portrait of your Hero (and wearing comfortable shoes!) just be there at the start of the event! We will let our Victors proudly march through the Melbourne city streets, and be seen by everyone!
You can also bring along flowers, national flags of the Allies (including Australia of course!), decorations, balloons – anything to make the day more festive for everyone.
Date: Saturday, 4th May 2019
Time: 15:00 (3 PM)
Starting location: Batman Park, Melbourne CBD (walking distance from the Southern Cross station towards the Yarra river)
Route length: 1.5 km (20-25 minutes' walk)
Enquiries: 0449 981 407 (Oxana) or immortal.regiment.au@gmail.com
The event is aligned with the City of Melbourne and the Victoria Police.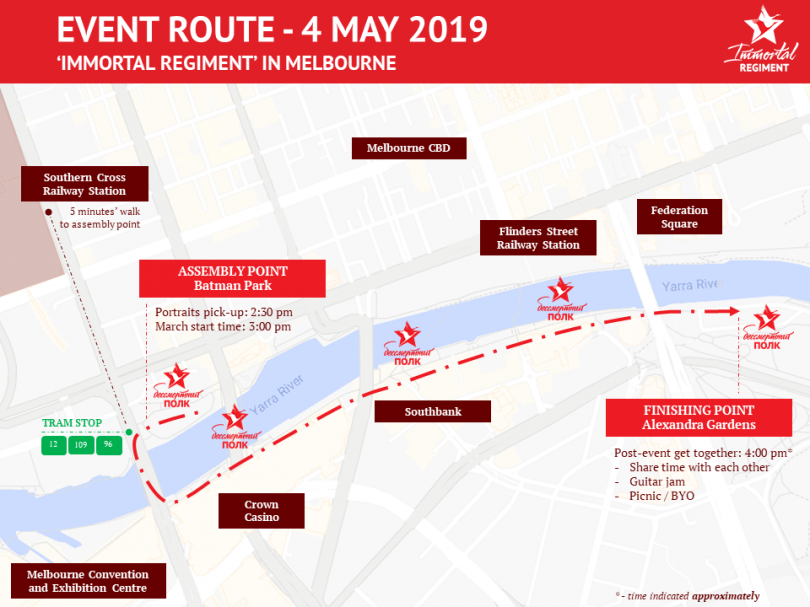 AFTER THE WALK
We will conclude the procession in Alexandra Gardens, the lovely park across the river from Flinders Street station. You are very welcome to stay around for a friendly picnic (consider bringing along snacks, drinks, blankets etc.) - or perhaps you may want take this opportunity and visit the Shrine of Remembrance memorial, which is in walking distance from the park as well, to pay an additional tribute to the War Heroes?
And now – last but not least – please help us spread the word! Tell everyone about the 'Immortal Regiment', show this page to your acquaintances, call your family and friends!
UNTIL FORGOTTEN, OUR HEROES WILL PARADE THROUGH TIME TOGETHER
See you there!
НОВОСТИ ДВИЖЕНИЯ Мельбурн
ПОДЕЛИТЬСЯ СТРАНИЦЕЙ